""LONDON (AP) — WikiLeaks founder Julian Assange filed a bid Tuesday to challenge his extradition to Sweden in Britain's highest court, says the Judicial Office.

On Nov. 2, two judges rejected the 40-year-old hacker's challenge to an order that he be extradited to Sweden to face questioning over allegations of rape and molestation.""
http://www.businessinsider.com/assange-high-court-atradition-2011-11

""Assange is out on bail under virtual house arrest, staying at a supporter's country estate in southern England.

His lawyers now must try to persuade High Court judges at a Dec. 5 hearing to rule that his case raises a question of general public importance and should be considered by the Supreme Court.

Lawyers for Assange could not be immediately reached to explain what the point of "public importance" was.

If Assange's request for a Supreme Court appeal is turned down, experts say extradition will be virtually inevitable.""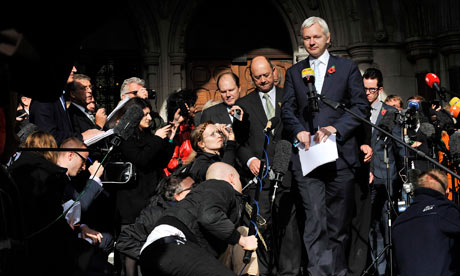 http://www.washingtonpost.com/business/uk-judiciary-julian-assange-files-application-to-take-extradition-case-to-supreme-court/2011/11/15/gIQAUdYtON_story.html