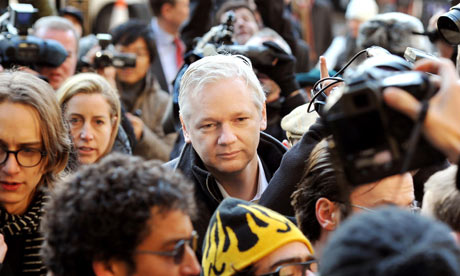 ""LONDON (AP) – A British court Monday gave WikiLeaks founder Julian Assange permission to continue his legal battle to avoid extradition to Sweden over sex crimes allegations.
The decision means Assange does not face immediate deportation. British judges said Assange could apply to the Supreme Court to hear one specific point of his legal case — but there is no guarantee that the higher court will accept his request.
In his judgment, Judge John Thomas said Assange had only a small prospect of convincing the Supreme Court of his arguments.
The "chances of success may be extraordinarily slim" for Assange's appeal, Thomas said.
Assange's lawyers had argued that every European arrest warrant issued by police or prosecutors was flawed, because neither should be considered a judicial authority.
The High Court judges did not indicate whether they agreed with the argument, but said Assange's legal team should have the chance to ask the Supreme Court to grant them a hearing. Assange said he was pleased by the ruling.
"The High Court has decided that an issue that arises from my own case is of general public importance and may be of assistance in other cases and should be heard at the Supreme Court," he said outside the courthouse.
"I think this is the right decision and I am thankful, the long struggle for justice for me and for others continues."
Assange now has 14 days to submit a written request to the Supreme Court, Assange's lawyer Gareth Peirce said.""
http://www.usatoday.com/news/world/story/2011-12-05/julian-assange-sxtradition-fight/51653254/1